Are you interested in teaching our courses in your church?
(Check out the list of extension centers from around the world below)



We have changed our program please read below:

In July 2009 the AMES International School of Ministry Extension Center Program was discontinued.  However, organizations that want to facilitate the Harvestime courses can now download the curriculum or purchase books from the publishers at Harvestime International Network.  These can be taught at your church or designated facility and facilitators can produce and print out student certificates and transcripts themselves.

If your students desire college credit and would like to go on to AMES Christian University, they can simply contact us requesting us to accept your official student transcripts for taking the Harvestime Courses with you.  They would need to pay AISOM $440.00 US dollars ($20.00 US dollars per course for credit) and have you send us their official transcript.  We will then consider them like one of our own accredited program graduates and will issue them a diploma and transcript from us with 87 transfer credits to transfer to our parent organization, AMES Christian University.

This way there are no yearly facilitator affiliation fees or monthly facilitator progress reports for you to send us like in the former affiliate extension program.  Your students can still earn credit and you can still teach the courses at your church or designated facility. This plan will be much easier for us and for you.  We will honor current extension center agreements until they expire.

To download the courses 

Click Here

To Purchase the Immediate Institute CD which will give you the tools to start a program in your church  

Click Here
Students from around the world studying the Harvestime Curriculum
Students from El Salvador Studying the Harvestime Curriculum: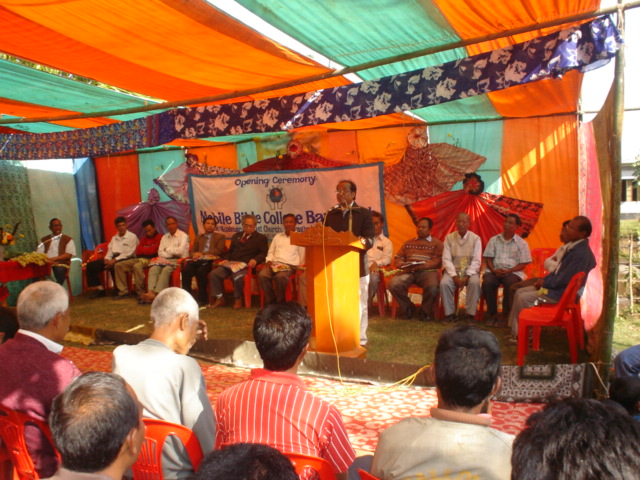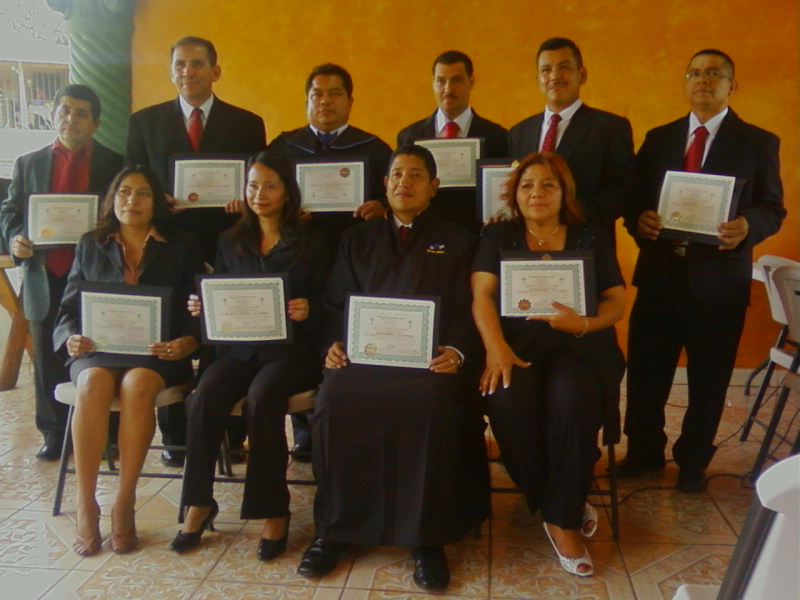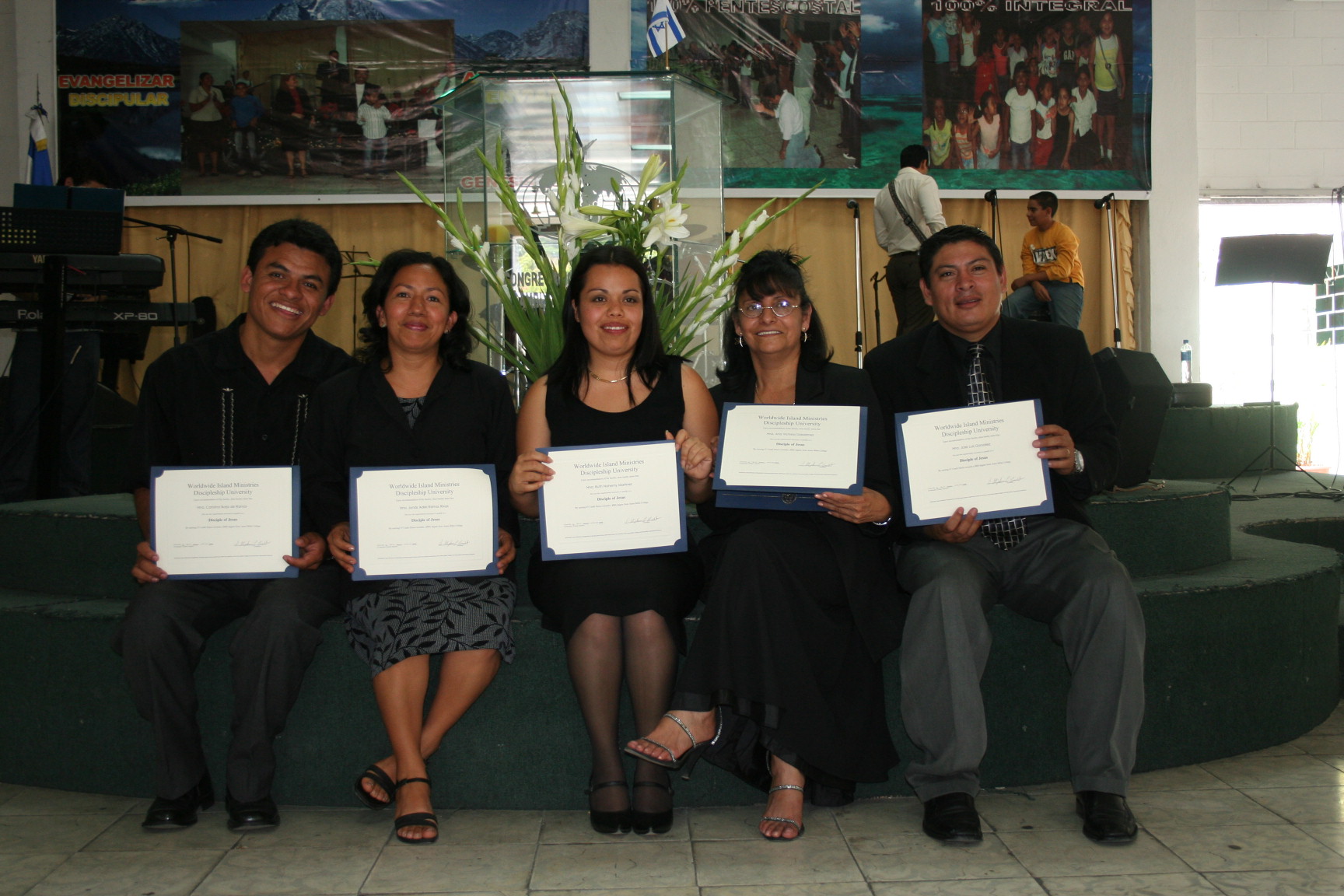 AMES INTERNATIONAL SCHOOL OF MINISTRY EXTENSION CENTERS
1) Kingdom of Christ Bible College, Ekita, Nigeria, Africa, Rev. Olofinbiyi Olufemi
2) 1st Church of God & Saints, Pittsburgh, PA, USA, Pastor Joseph Stieff Sr.
3) Fulfillment of Mission Bible College, Akure, Ondo State, Nigeria, Africa, Rev. Stephen Abobade
4) Mount Olive Baptist Church, Lake Como, NJ, USA, Pastor Jesse W. Evans Jr.
5) TBM INDY Indianapolis, IN, USA, Chaplin Crystal Hill
6) Empact School of Ministry, Jacksonville, FL, USA, Susan Lunsford
7) Greater Visions Jackson, TN, USA, Elder Mario Price
8) Bread of Life Ministries, Avon, IN, USA, Rev. Christopher Elliott
9) Renewal Ministry Fellowship, Australia, Rev. William & Anita Femiano
10) Word and Spirit Worship Center Inc., Virginia Beach, VA, USA, Apostle Michael Watson
11) True Light Bible Institute, Savannah, GA, USA, Rev. Alice Barnes
12) New Hope Ministries, Jimboomba, Queensland, Australia, Christina Francis Rose
13) Tom Moore Ministries, Winston, OR, USA, Rev. Thomas Moore
14) Echo Foundation Movement, Freetown, Sierra Leone, Rev. Joseph Williams
15) Promise Land Empowerment, Romeoville, IL, USA, Rev. Alphonse Okossi
16) Living Word Worship Center, Columbus, OH, USA, Rev. Charles Gaul
17) Champions Chapel Intl. Church, Liberia, West Africa, Rev. Ernest Gibson
18) Living Word Bible College, Cleveland, OH, USA, Rev. Gary Reed
19) Perez International Bible College, Mafikeng, South Africa, Rev. Samuel January
20) Northside Christian Ctr., Carthage, TX, USA, Rev. Scott Dragoo
21) Themelios Christian Fellowship, Cape Town, South Africa, Andre Glen Stroud
22) JNN Bible Institute, Nigeria, West Africa, Apostle Josiah Nathaniel
23) Mountain View Christian Center, Brentwood, CA, USA, Pastor Tyrone Holmes
24) Gifts of Life Ministries Outreach, Memphis, TN, USA, Misty D. Eddleman
25) Khosq Cultural Fund, Yerevan, Armenia, Mr. Suren Arakelyan
26) Full Gospel Ministries, Gaborone, Nil Botswana, Tshepo Motswagole
27) Grace Temple Outreach Ministries, Jonesboro, GA, USA, H. Marie Mason
28) The Dispensation of Grace Ministries, Kenya, East Africa, Rev. Tobias Wakungu
29) Dwight Gurley Ministries Charlotte, NC, USA, Pastor Dwight Gurley
30) United In Christ Ministries Inc., Harlingen, TX, USA, Pastor Sonia L. Sieger
31) Greater Grace WOC, Monroe, NC, USA, Bishop Dr. Charles Carter
32) West Trinity College, Las Vegas, NV, USA, Dr. W. Derius Smith
33) Lighthouse Teen Challenge, MBAbane, Swaziland, Kevin Ward
34) Crusaders for Christ Ministry, Melvin, AL, USA, Shirley McNickles
35) Praise to the King Ministries, Willmington, DE, USA, Dr. Nailah Gilliam
36) Launch Pad Ministry Training Center, Ridge Manor, FL, USA, Minister Cheryl Thomas
37) Action Ministries, Lost Creek, WV, USA, Pastor Thomas Sears
38) Mobile Bible College, Bangladesh, Tarun Rangsa
39) New Life Christian Center, Greenville, TX, USA, James Quesenberry
40) Haven of Rest Rescue Mission, Bristol, TN, USA, Timothy Cross
41) International School of Ministry, Nigeria, West Africa, Dr. Rowland Peters
42) Bethesada Bible College, Peoria, IL, USA, Moses Belton
43) Southgate Church, Phoenix, AZ, USA, John Wilkirson
44) Real Life Ministries & Outreach, Mooresville, IN, USA, Kevin DePew
45) Sozzo Theological Training Ctr., Zambia, Africa, Pastor Kalulu Lazarous
46) Grace Deposits, Inc, Vicksburg, MS, USA, Dr. David G. Gale
47) SFC Christian House Evangel. Min., Weldon, NC, USA, Edward Owens
48) Harvest Church Ontario, Canada, Rev. James Kirkby
49) Key to Life Church of God, Lewistown, PA, USA, Pastor Glenn Smith
50) School of Christ Norway, Oslo, Norway, Frank Marshall
51) The CTC Network, Freeport, Bahamas, Dr. Jonathan C. Carey
52) Vision Miracle School of Ministry, Jamaica, Dr. Juliette Fagan
53) Kingdom Building Ministries, Kansas City, MO, USA, Martin Temple
54) Life Changing Ministries, Clarksville, NC, USA, Alfred Davis
55) Church of the Living God, Indianapolis, IN, USA, Bishop Willie Townsend
56) Tanya Manada Ministries, Realto, CA, USA, Tanya Manada
57) United Christian Fellowship, Port Neches, TX, USA, Pastor John Morgan
58) Christ Fullness Int'l. Ministries, Nigeria, West Africa, Samuel Adesanwo
59) Union Baptist Church, Akron, OH, USA, Dr. Willie C. Watts
60) Centered In Christ Church, Wahoo, NE, USA, Pastor Harold Peterson
61) Bethel Presbyterian Church, Cranesville, PA, USA, Dr. James Rimmer
62) Presbyterian Evangelistic Fellowship, Accra, Ghana, Dr. Nana Kwaku Ofori Akuffo
63) His Grace Bible College, Akure, Nigeria, Africa, Pastor Edenezer Adetule
64) Kentwood Christian Academy, Covington, WA, USA, Rogita Seratt
65) Elim International Bible Institute, Paramaribo, Suriname, Pastor Thomas Prah
66) Rest Ministries, San Diego, CA, USA, Debbie Farmer
67) Institute of International Leadership, Kenya, East Africa, Pastor Japheth L. Munialo
68) New Beginnings Christian Center, Wallsend, Australia, Pastor Richard Anthony Burley
69) The Inst. for Excellence in Discipleship Training, Avon, IN, USA, Rev. Christopher Elliott
70) Frontline Discipleship, Hector, AZ, USA, Rev. Andrew Lee Haywood
71) Friendship Missionary Baptist Church, St. Louis, MO, USA, Rev. James Thomas
72) Restorers of The Cities, Kings Beach, CA, USA, Pastor Jeffrey Austin
73) Harvesting Souls for Christ Ministry, Temple, TX, USA, Apostle Brenda Hunter
74) South Gate Church, Phoenix, AZ, USA, Pastor John Wilkirson
75) Bethesda Bible College, Houston, TX, USA, Bishop Moses Belton, Sr
76) Zions Way Fellowship School of Ministry, Bridgeport, CT, USA, Apostle Cheryl Jones
77) Heart of God Church of Deliverance Outrch Intl, Chula Vista, CA, USA, Pastor Roderick L. Maupin
78) Eden Restoration Tabernacle Seminary, St. James, Jamaica, W.I. Director, Pastor Richard Williams
79) Mighty Warriors University, Goldsboro, NC, USA, Bishop Dr. Gary Howell
80) A.R.M.O.R. Center Ministries, Amarillo, TX, USA, Pastor Duane Bilderback
81) Calm Bible Institute Nigeria, West Africa, Rev. David Adebisi
82) Rhema Life Ministry Training Institute, Killeen, TX, USA, Bishop J. Anthony Wilson
83) Gift of God Ministries, Athens, TN, USA, Rev. Matthew Cox
84) Ruach International Bible Institute, EL Paso, TX, USA, Dr. Rodney Ransom-Jackson
85) Tabernacle Bible Training School, Libreville, Gabon, Pastor Massouke Moutongo Samuel
86) Christ Partners Bible Institute, Lagos, Nigeria, Pastor Titus Ayeni
87) Disciples Evangelism & Drama Institute, Lagos, Nigeria, Pastor Ester Adewumi
88) United Pentecostal Revival International School of Ministry, Zimbabwe, Pastor Herbert Mabhiza
89) Greater Faith International Bible Institute & College, Grandview, MO, USA, Bishop Michael Green
90) Believers Lovespace School of Ministry, Port Harcourt, Nigeria, West Africa, Pastor Elisha Linus
91) Summit University College & Seminary, Accra-Ghana, Rev. Dr. Emmanuel Yao Nash
92) Global Great Commission Bible College, Bhubaneswar, Odisha, Pastor Sushil Kumar Nayak
93) Consuming Fire Bible & Training Institute, Orlando, FL, USA, Dr. W. Esther Pitts
94) New Creation Restoration Foundation, Troup, TX, USA, Cari Jones
95) Rev. David Seminaries & Outreach, Ghana Suhum, Rev. Dr. Akakpo David
96) Pastoral Academy, Boston, MA, USA, Pastor Jean Jeune
97) Victorious Living Bible College, Agona Swedru, Ghanna, Bishop Dr. Matthew W. Brown
98) New Living Water Ministries, Allentown, PA, USA, Pastor Louis Nunez
99) Church of the Living God, (Jewell Dominion) Indianapolis, IN, Bishop Willie C. Towsend
100) Kingdom War Church, Columbus, OH, USA, Overseer Mea Roney
101) Agape Believers Church & Ministerial College, Suhum, Ghana, Rev. Dr. Divine Qouami
102) Ames International School of Ministry, India Bangalore, India, Pastor Ravi Kumar
103) Livingstone Revival Networking And Bible College, Kenya, Nairobi, Pastor Wilson Kwanzu Ananda
104) Calvary Bible College CABICO Bamenda Cameroon,  Africa, Pastor (Dr) Nkweti Daniel Fru
105) Royal Grace Christian University Abuja-Nigeria, Bishop Frankly Isah Dibal
106) Fishers of Men Ministries-Kenya, East Africa- Rev. Joshua Ngao
107) Christian Theological International Seminary.Abeokuta, Ogun State.,Dr Olutayo Bamgbose
108) Faith Open Door Ministries.Toronto, Canada., Bishop Dr. James Robinson
109) Integrity International Bible College .Seattle, Washington, Bishop Stephen Njenga
110) Shepherd life Ministerial College and Clergy Council, Ashiaman, Ghana. Apostle Dr. Samuel Appiah
111) The Prayer Room Evangelistic Center USA , Erwin, NC Pastor Lillian Sanders